Washtenaw Wide Open Wireless
In response to the Wireless Washtenaw RFI-6200, Cybernet Systems, Synergy Broadband, and IC.net propose to form the initial membership for Washtenaw Wide Open Wireless (WWW), a not-for-profit, cooperative corporation that will support deployment of advanced 802.11b/g mesh networking technology comparable to, but more advanced than, what is available from other entrants into this market.
You can view the complete proposal in Acrobat PDF format here.
Key Features of this Proposed Approach: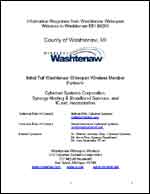 No initial need for State, County, or City resources to establish Phase 0 and I deployment.
No requirement for direct County investment.
An inclusive non-profit organizational approach that allows participation from any and all Internet service providers that currently or plan to operate in the County, regardless of size and current market share.
State of the art network technology, with provisions for continuous upgrade of this technology.
Full network interoperability with in-place 802.11 hotspot infrastructure and wireless PCs.
Read the Information Response (Acrobat PDF format) from Washtenaw Wide Open Wireless to the Wireless Washtenaw initiative (Washtenaw RFI #6200)